WORKSHOP FOOD&WINE 7.4.2022, GAL MERIDAUNIA APULIA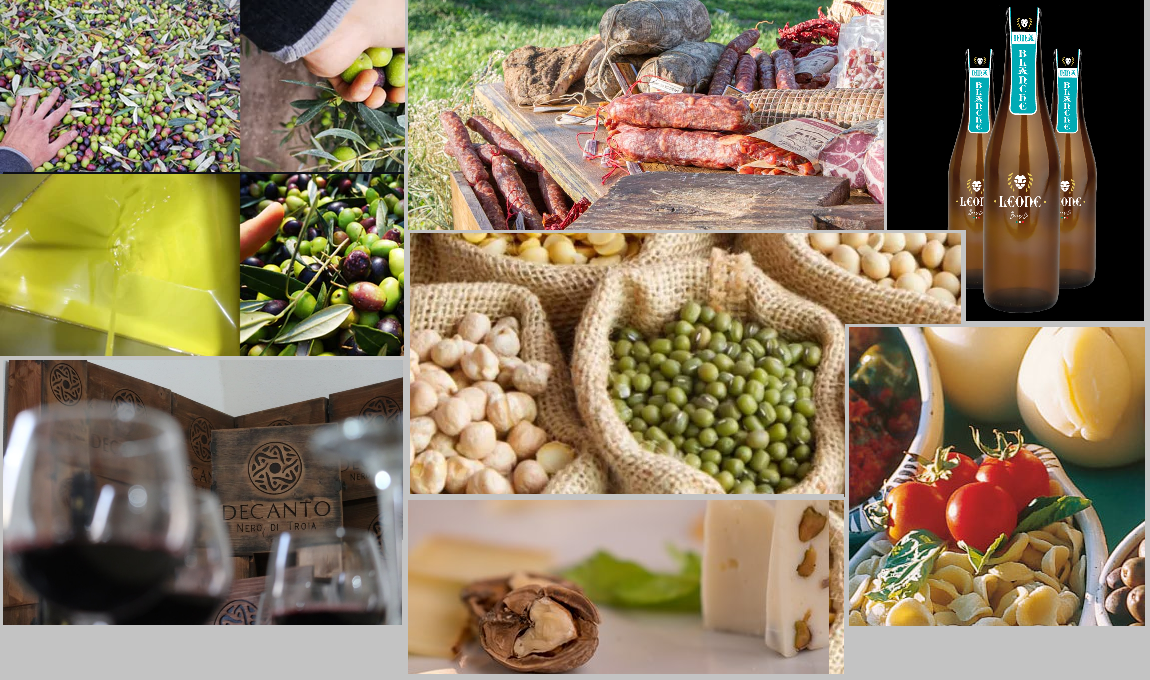 GAL MERIDAUNIA
FOOD & WINE FROM MONTI DAUNIA, APULIA – ITALY 7.4.2022
Vanha Ylioppilastalo, Mannerheimintie 3 – HelsinkiItalian Trade Connections järjestää GAL Meridaunian kanssa alueen ruoka&viini -promootion Helsingissä. Paikalle saapuu kuusi tuottajaa Apulian Monti Daunin alueelta, jotka esittelevät mm. oliiviöljyjä, tomaattisäilykkeitä, leikkeleitä, juustoja, viinejä, artesaanioluita sekä papuja, linssejä yms. Mukana on useita luomutuotteita.

Ohjelma:
Klo 13 – 17 Walk around
Klo 14 Monte Dauni -buffet

Voit ilmoittautua tilaisuuteen alla olevasta linkistä.
COMPANIES
CANTINE DE CANTO – www.cantinedecanto.it
DECANTO is the name of the cooperative. The cooperative aims to produce doc and igt wines of different positioning, also in relation to the altitudes of the crops, based on Uva di Troia in full respect of the territory.
In the Lower Foggiano area, where company's vineyards grow, there is an optimal microclimate, different from the surrounding areas, which positively influences the various phenological and ripening phases: winters are in fact usually cold due to the constant north wind, which allows the vine to enter the vegetative rest phase. Spring is gentle, with good temperature variations between day and night. Summers are hot but never so hot as to compromise the performance of the photosynthesis, the harvest period is warm and ensures the perfect completion of the ripening of the grapes.
Products: UNUS DOC Tavoliere delle Puglie BIO, TRINUS Nero di Troia Puglia IGP – ANNO ZERO Super apulian, AIKA Nero di Troia Rosato Puglia IGP, Vino Spumante Rosato Extra Dry
BIRRA LEONE – https://leonebeercompany.it
Leone Beer Company is an artisanal microbrewery located in Southern Italy. A project born from its founder during the years spent abroad between Northern Europe and North America.
A microbrewery is legally and economically independent from any other brewery and uses high quality systems physically distinct from those of any other. The raw materials used are natural and selected and there is no addition of extracts, preservatives, or additives. Beers are not filtered or pasteurized.
Products: Non pasteurized and non-filtered craft beers with cereals grown and malted in Apulia – Amber Ale, Blonde Ale, Blanche, Honey Ale
BIORICCI – https://bioricci.it
The company is located in Daunia (northern Puglia), precisely in the countryside of Lucera, has as its main objective the enhancement of native varieties by placing respect for the land, history and food and wine culture of its territory at the center of its work.
Since 2018, the farm has been a certified organic company with BIORICCI brand.
Products: Extra Virgin Olive Oil, Olio EVO Bio Monocultivar Peranzana, preserved red and yellow tomatoes, tomato sauce. All organic
OLIO MONTE FEDELE- https://oliomontefedele.com
The company is situated in Bovino, in the ancient medieval village, one of the "most beautiful villages in Italy", in the green heart of the Dauni Mountains. They concentrate on high quality production and are in conversion to organic.
Products: Two Olio Evo oils – Ogliarola 100% (rewarded in international competitions), Blend – selection of ogliarola, leccino and rotondella, Olives Bella di Cerignola, Patés (asparagus, olives and Bomba pugliese)
FATTIBENE – https://fattibene.it
Fattibene cured meats were born in 2010, from the desire of evolution and the long-lasting experience of a family of butchers operating for seven generations.
Fattibene cured meats are produced with lactose, gluten, allergens, nitrates free meats.
Products: Soppressata, capocollo, salsiccia, filetto, pancetta, spalmaforte, carpaccio
FAMIGLIA CONSIGLIO – www.facebook.com/pianadellemandrie
Agriturismo producing cheeses, cold cuts and legumes.
TERVETULOA TUTUSTUMAAN!
Lisätiedot: [email protected]italiantradeconnections.com