Trophée Pares Balta Jyväskylän osakilpailun koe
20.10.2016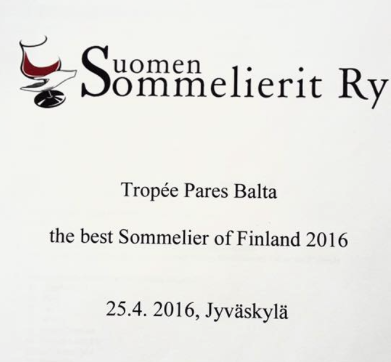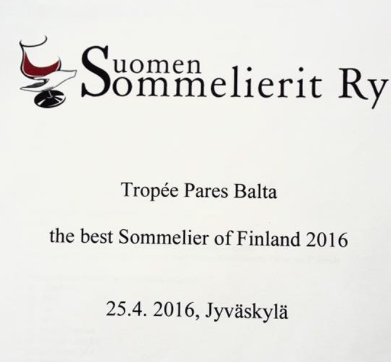 Kokonaispisteet 147pst aikaa 55 min
Who founded Constantia and in which year?
/4
What are the most planted red and white varieties of South Africa?
/4
Name the 7 wards of Stellenbosch.
/7
Name the 5 geographical units of South Africa.
/10
Connect the winery with the correct AVA.
Château Montelena       1) Oakville
Robert Mondavi             2) Calistoga
Taittinger             3) Rutherford
Esterlina Winery       4) Carneros
Gary's Vineyards       5) Santa Lucia Highlands
Beaulieu Vineyards       6) Cole Ranch
/6
Which was the first AVA of Washington and when was it founded?
/4
Which French hybrid is allowed for VQA icewine?
/2
Name the 5 designated viticultural areas of British Columbia.
/10
Where are the following restaurants situated?
Charlie Bird
Benu
Per Se
Alinea
Rouge Tomate
French Laundry
Joël Robuchon
Manresa
/8
What is the minimum temperature for picking grapes for icewine?
/5
Who is responsible for the name Fumé Blanc?
/2
Name 3 Vitis labrusca varieties.
/6
True or False?
a) Alexandria Lakes and Upper Mississippi River Valley are AVA's of Minnesota
b) For a wine to carry an AVA name on its label, at least 75% of the grapes must be grown in that AVA.
c) Any wine bearing "California" or any California AVA or appellation guarantees that 85% of the grapes are grown in the Golden State.
d)There are currently five winery's in Alaska.
e)When a vineyard is listed on a California wine label, it indicates that 95% of the grapes came from that vineyard.
/10
Name the sate for the following AVA's
Edna Valley
Paso Robles
Yakima Valley
Snake River Valley
Finger Lakes
Walla Walla Valley
Dunnigan Hills
Elkton
Lake Erie
Red Mountain
/20
Name parents of following crossings:
Pinotage =
Ruby Cabernet =
Chenel =
Ehrenfelser =
Roobernet =                                                                                                                                    /10
Name the better known synonyms of following grapes:
Cape Riesling =
Steen =
Hanepoot =
/6
Name the wards of following regions:
-Paarl
-Swartland
Cape Peninsula
-Darling
– Franschhoek
-Stellenboch
/15
20.Name four provinces, where Canadian wine industry is consentrated.
/8