Trophée Pares Balta Turun osakilpailun koe
18.10.2016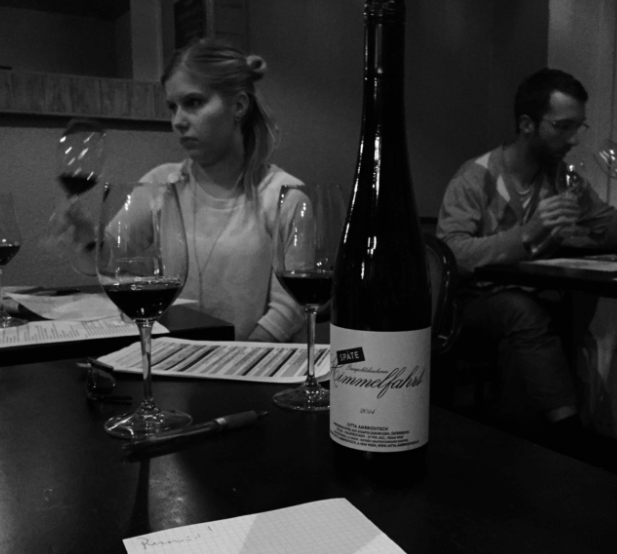 Kokonaispisteet 185pst aikaa 55 min
WHERE IS VIEUX CHATEAU CERTAN?
/2
THERE IS TREE CHANGE IN THE BORDEAUX CLASSIFICATION 1855 NAME THEM.
/3
WHAT IS THE PRIMARY GRAPE OF BLANQUETTE DE LIMOUX?
/2
NAME THE CLASSIFICATION LEVEL AND COMMUNE OF FOLLOWING:
TALBOT__________________________
BATAILLEY______________________
LYNCH-BAGES___________________
CALON-SEGUR___________________
RAUZAN-SEGLAS________________
/10
NAME THE FIRST WIE OF THE FOLLOWING SECOND WINES
PAVILLON ROUDE                                            –
RESERVE DE LA COMTESSE                  –
LE CLARENCE                                              –
ALTER EGO                                                      –
LA TOUR L'ASPIC                                            –
/10
NAME 10 BEAUJOLAISE CRU VILLAGES
1.
2.
3.
4.
5.
6.
7.
8.
9.
10.
/10
NAME THE 3 PRINCIPAL CLONES OF THE NEBBIOLO GRAPE
/6
NAME THE 3 PRINCIPAL COMMUNES OF BARBARESCO DOCG
/6
GIVE A GREAPE TO FOLOWING WINES

SOAVE
VINO NOBILE DE MONTEPULCHIANO
TAURASI
SFURSAT
GATTINARA
/6
WHERE ARE THE FOLOWING WINES FROM AND WICH GRAPE VARIETY DOMINATES?
COLLI DI LUNI ROSSO
COLLI DI LUNI BIANCO
/6
IN WICH COUNTRY DO YOU FIND THE FOLOWING GRAPE VARIETYS AND WHAT COLOUR OF WINE DO THEY GIVE?
HASSANDE
EMIR
NARINCE
PAPASKARAZI
DIMRIT
COUNTRY
/12
PLEASE POINT THE GRAPES TO THE GROVING AREA

Malbec                                             Alsace
Savagnin                                         Savoie
Mondeuse                                       Pacherenc du Vic-Bilh
Petit Corbu                                     Jura
Auxerrois Blanc                            Cahors
Mauzac                                            Limoux
Melon de Bourgogne                    Bouzeron
Aligote                                              Muscadet
/8
NAME THE 7 GRAPES OF CHAMPAGNE
16
/7
16 NAME THE BIGEST AND THE SMALEST OF COTE DE NUIT GRAND CRUS
1.
2.
/4
NAME TWO GARND CRUS OF ALSACE THA CAN PRODUCE BLEND WINES
/4
NAME THE GRAND GRU GRAPES OF ALSACE
/10
NAME THE COMMUNES OF FOLOWING BURGUNDY PLACESES
(Maconnais, Côtes de Nuits, Côtes de Beaune, Chablis, Côte Chalonnaise)
La Mouton
l'Home Mort
Corton
La Romanee
Givry
Fleury
Meursault
Viré Clesse
Montrachet
Rully
/10
NAME THE TWO GRAPES USED FOR TOKAJI
/4
HOW WOLUD YOU DESCRIBE THE FOLLOWING WINES. NOSE, TASTE AND FOODRECOMENDATIOND.
CLOS ROUGEARD LES POYEUX GRAPE:
NOSE:
TASTE:
FOOD:
2.BODEGAS HISPANO SUIZAS BASSUS                                            GRAPE:
NOSE:
TASTE:
FOOD:
MASTROBERARDINO FIANO DI AVELLINO AREA:
NOSE:
TASTE:
FOOD:
/15
PLEASE CORRECT THE ERRORS IN THE WINE LIST. THERE ARE 10 MISTAKES, CORREKT ONLY 10 POINTS.
CHAMPAGNE
NV     LUCIEN ALBRECHT ROSÉ BRUT                                                                                                              65
2004 BOLLINGER SPECIAL CUVÉE BRUT                                                                                        110
WHITE WINE
2013 SAUVIGNON BLANC, VERGELEGEN, STELLENBOCH, SOUTH AFRICA                                    38
2002 PRIVAT SELECTION CHARDONNAY, ROBERT MONDAVI, OAKVILLE, US                      46
2013 CHABLIS, MAISON WILLIAM FEVRE, BOURGOGNE, FRANCE                                            59
RED WINE
2011 FLEURIE, DOMAINE JEAN FOILLARD, BEAUJOLAISE, FRANCE                                                    38
2012 LAND MADE PINOT NOIR, YEALANDS ESTATE, MARTINBOROUGH, NZ                                     44
2008 CHATEAU CLARKE, BARON PHILIPPE DE ROTHSCHILD, BORDEAUX, FRANCE                      63
2006 BAROLO MERIAME, AZ. AG. SUKULA, PIEMONTE, ITALY                                                                  146
2009 CHATEAU GRILLET, NEYRET-GACHET, RHONE, FRANCE                                                                  165
SWEET WINE
2008 CHATEAU GUIRAUDE, BARSAC, BORDEAUX, FRANCE                                                                  87