Elokuun 2019 sommelier on George Loukakis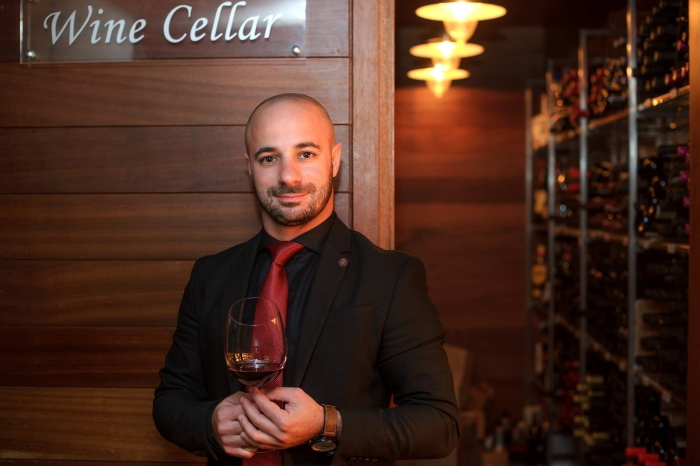 What's your name and where do you work?
My name is George Loukakis. My current position is Head Sommelier at Parklane, A Luxury Collection Resort & Spa in Limassol, Cyprus.
How did you first become interested in wine, and how did that interest evolve into a career?
When my uncle Nikos Loukakis was starting his career as a Sommelier, I went to see the finals for the Best Sommelier in Greece. At that time I was 17 years old. I got myself so excited with all of the knowledge that a Sommelier needs to have so that it was the love at the first sight. I tried wine for the first time at the party after the finals. ?
What do you think makes a good sommelier?
A good sommelier is someone who listens and someone who talks about wine from the perspective of wine. Of course we all have opinions, but it's about listening to guests and what they want. A good sommelier enjoys working with diners as they choose the correct wine for the food they'll be eating.
The sommelier must be familiar with both the restaurant's menu and the selection of wines he has available in the wine cellar as well with all available beers, spirits, cocktails etc. A good sommelier must maintain the list's integrity while providing variety between good, lower-cost varieties and higher-priced vintages.
What are your favourite food and wine pairings? (name 3)
A classic carbonara with a crisp Chablis on a 1er Cru level.
Clay pot orzo with lamb shank with a mature Xinomavro, Naoussa, Greece and beat that.
Honey dough balls with Commandaria, Cyprus, Vin Naturel style and you are in heaven.
In your opinion, what are the most interesting trends in the wine market right now? Why?
The Value Propositions Rise. We love a good bargain and we're continuously searching for wines that offer great value for money. 2019 sets to be another year in which the price differences between the established classic wines of the world and the newcomers grow further and further apart, with the top wines of Burgundy, Bordeaux and California in particular set to become even more expensive.
We've seen many a wine lover lament the increased cost of these wines, often to the point of inaccessibility, yet the silver lining is that there are more great wines out there than ever before, and many of them are very well priced indeed! From lesser known regions within classic wine producing countries, to new, exciting regions popping up in places like Cyprus, Greece, Eastern Europe, Asia the selection available for an adventurous wine lover has never been better.
You can only drink one wine for the rest of your life. What is it and why?
Certainly bubbles. To keep myself fresh & crisp, yet elegant with finesse. ?