Maaliskuun 2022 sommelier on Romain Benoit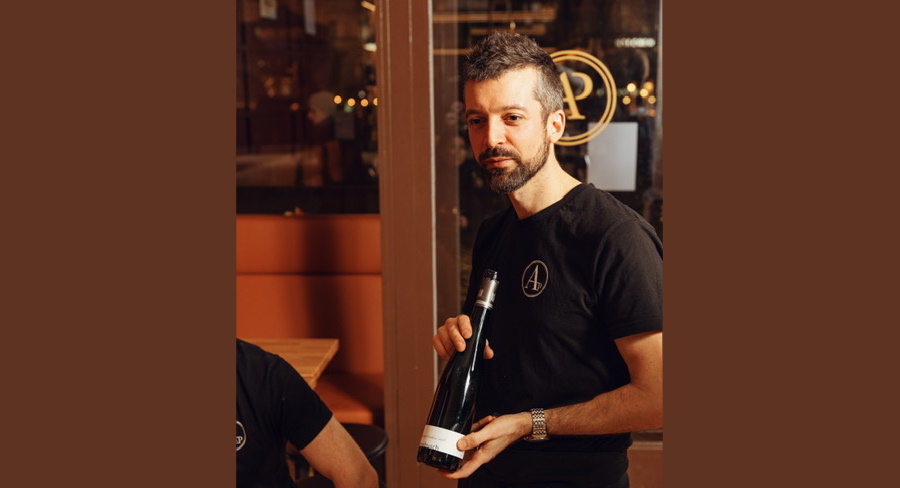 What's your name and where do you work?
My name is Romain Benoit and I work at Brasserie Alexanderplats Helsinki.

How did you first become interested in wine, and how did that interest evolve into a career?
Native of Burgundy, I moved from France to Finland in late 2009 and because I was not able to find a job in my field (training engineering), I applied for a waiter training apprenticeship with Perho and Royal Ravintolat.
The training began at GW Sundmans, where my curiosity about wine was fulfilled by the knowledge and generosity of Jussi Ansaharju, the sommelier at Sundsmans at that time. I ended up working as a waiter at Nokka and was infected by the sommeliers' enthusiasm (Pekka Rantala, Riia Manninen, Elina Turunen & Inari Mattsson).
During this time I also put in working hours at Sasso, Elite, Havis, Savoy, Presto etc., met many people in the Helsinki food industry and gained as much experience as I could.
I believe my interest in wine showed up late in my life. When I was young, my uncle always brought a bottle of Saint-Romain to my birthday meals, but it wasn't until 2017, on a wine tour that ended up at this same uncle's house in Nuits-Saint-Georges, again with the liveliness of Saint-Romain on my tongue that I realised my family roots have been leading me all this time to my professional career.
My interest and excitement about wine increased so I enrolled in Wine & Spirit Education Trust (WSET), completing level 3 at Le COAM Paris for strengthen my basic knowledge and was employed as assistant Sommelier at Restaurant Nokka.
In late 2020 Angelo Dinato offered me my current position as Alexanderplats' Head Sommelier.

What dish on your menu would you recommend at the moment? And what would be the wine pairing for it?
The timeless "Chateaubriand" served with a béarnaise sauce, tomato onion salad and French fries. I have never seen a guest regret having ordered it. The tenderloin is delicate and does not contain a lot of fat, so a lighter red will work.
The béarnaise simply calls for a Pinot Noir. I would recommend a Gevrey-Chambertin, it will give enough power and express itself wonderfully. I also like to propose Nebbiolo from the Valtelline.
If a guest prefers something fuller, then I will suggest a Syrah from Northern Rhône, such as a Croze-Hermitage, or a Merlot driven from the Libournais.
Bonus: for dessert, the Chocolate pie with a Ratafia de Champagne is a good contrast wine-pairing. The Ratafia intercepts the bitterness of the dark chocolate and makes the pie lighter while lengthening the chocolate's aftertaste.

Tell us a memorable customer experience from your career!
It was at Nokka in the autumn some years back. Half of the restaurant was reserved for a diplomatic dinner, if I remember correctly it was the President of Kazakstan.
First, we heard a helicopter, then a dozen or so Jetskis on the bay. Finally, a group of people looking worried and exhausted, came into the restaurant checking every centimeter of the premises before the actual guests arrived.
The food order had been made in advance but a representative barged straight into the kitchen and changed it all. He, also, insisted that all the chefs would be supervised by their men while preparing the food. The other half of the restaurant was already full of customers.
I cannot remember the face of our Head Chef but I know it must have been epic. They brought their own sommelier and he chose our most expensive wine, a Romanée-Saint-Vivant 2007 from DRC.
The diplomat guests weren't really hungry or thirsty. They were in a hurry. They practically didn't touch their wine. Their glasses were never refilled. The decanter was not even finished. I've never been tipped so generously!

What are your personal favourite food and wine pairings?
Risotto with forest muschrooms and parmesan with a Champagne Grand Cru Cuvée Shaman 17 from Benoît Marguet. Pinot Noir driven with Chardonnay, this cuvée pairs heavenly with a butter rich risotto. Ideally I would be at a forest cottage where I had just handpicked the mushrooms, and the fireplace blazing.
Stewed rabbit, onions, bacon and mushrooms together with a Chambolle Musigny 1er cru Les Feusselottes 2016 from Frederic Magnien, the Côte D'Or alchemist. This dish brings back the wonderful aromas of the winter Sunday lunches of my childhood. The mushrooms, marinade and the deep richness of the stew fit perfectly with the finesse of this Pinot Noir.
Grilled salty Sardines and lemon with a Vinho Verde Alvarinho 2020 Quinta Cova da Raposa from Manuel Taxa. Open a bottle of this with good friends while preparing the barbecue, Portuguese sun, cool shade under a tree, lean back and enjoy.

What is your favourite cocktail and why?
Absinthe frappé. I love the smell, the flavors as well as all the stories behind Absinthe. You just throw it in a shaker with fresh mint leaves, sugar syrup and ice, give it a good shake and bam!