Marraskuun 2020 sommelier on Edmund Liew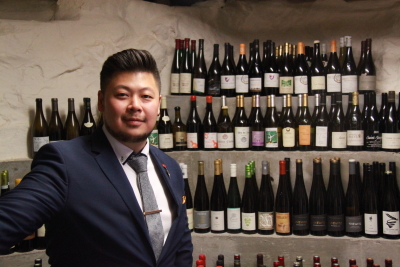 Who are you and where do you work?
I am Edmund Liew, probably the only Asian sommelier in Finland, living a slight over six years now since 2014. I am currently working in Lapland, Levi as the Wine Director of two hotels – Design Hotel Levi & Levi Hotel SPA.
How did you become a sommelier? How did you end up in the industry?
I am a hotel management graduate from Université de Toulouse, Le Mirail France, which have been my management training in a French fine dining restaurant call Le Francais. Being an intern back then I have always questioned myself why people are willing to pay such a sky high price for a bottle of wine.

I still do recall, it was a busy hectic evening, and it was a very satisfying sales and therefore all staff gathered and had an after service drink together. There was two open bottles of wine, one heavier in color (Bordeaux) and the other lighter (Burgundy). I tasted both and commented how bad the Burgundy has been made, even saying that the winemaker has even diluted the wine with water. My manager was laughing out loud, smacked my head and showed me the price list asking me to see the prices of the two. I didn't understand why, it just did not make any sense to me.

I started digging in and even did my thesis specifically on these two regions. It took a while and unknowingly, the deeper you went, not being aware of time, time passed with in depth wine studies, competitions around the world, being niche in the Asian market, and little did I know – 15 years down the road, I am here now in Finland. Creating wine list, managing the cellar, doing the cost management as well as importing of wines for one of the few most heavily wine tax countries in the world, but also wine scene at its finest too.

Tell three of your own favorite food and wine combinations for fall / early winter!
Snow Grouse / Riekko – a stunning bird found in the northern part of Finland, soft and tender with great creaminess despite of the dark colored meat. Probably a debate between a nice Grenache or a spiced Gamay – depending on the cooking method.
Matsutake / Männyntuoksuvalmuska – couldn't help but to specially highlight this elegant ingredient that has been a star topic for 2020. Fishing has been horrific for me in 2020, but mushrooms were just stunningly amazing all around Finland this fall.An ingredient that could hold up and play by itself as a singular superstar ingredient, I would say a fight between a nice Blanc de Blanc Champagne when you battered it thickly and deep fry accompanying with little soya mayonnaise to cut of the greasiness or aluminium foiled charcoal grill with soya and sake bringing out the spiciness of it, I would beat for a fresh demi sec champagne to go with it to tone down the spice and heat.
Cloudberries / Hilla – specifically mentioning korpilakka, the huge orange ones that can be as big as your thumb, disappointingly blunt without acidity but if you would play around and make a stunning creme brulee with it and then sharpen it with an Auslese Riesling that probably you thinks its a Kabinett on the palate when drinking. The crunch of acidity and touch of sweetness, and the smeared texture of the marmalade cloudberry, you may think twice if you would ever leave Finland for good.

What do you think are the most interesting wine trends right now?
Most interesting wine is a wine that makes you think for a long time, changes in the glass from time to time, in regardless of natural of classic & most importantly the company that you spend with – that would be an interesting wine as it will be a part of your memories of who and what occasion have you drank and enjoyed with.

If you could only drink one wine for the rest of your life, what would it be and why?
Probably an oxidative Savagnin, if money allows – Château Chalon with Comté would be something I would drink and eat for the rest of my life. Somehow this wine has a slight resemblance of the King of Fruit – Durian; feels home to me everytime I enjoy it. Just my opinion, I know many don't agree that it tastes and smells like Durian… ha ha ?